---
News — textiles
Posted by Virginia Fretto on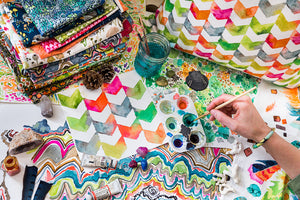 You have likely noticed over the past few years that we have used a number of fabrics from textile design, Betsy Olmsted. Drawn to her designs for their vivid colors and whimsical aesthetic, we couldn't be happier to not only recycle her remnant fabrics, but to call her a friend.    Betsy starts each new design as an original watercolor painting. Her designs are available as licensed fabric yardage as well as her gorgeous lines of houseware textiles.  We are obsessed with her new mineral and geode prints, and you can now find this vibrant print in our ETTA BRACELET.  
---
Posted by Virginia Fretto on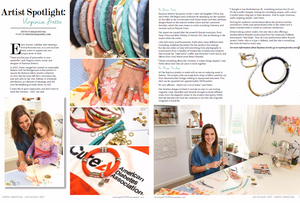 Photos by: photoandgraphic.com "Every woman, whether she's wearing a formal business suit, or cool summer dress wants to express her unique sense of style." - Megin Potter, Simply Saratoga Magazine, July/August 2017. After spending a morning chatting with Simply Saratoga writer, Megin Potter, I knew she really understood the hard work and dedication it takes to be a creative entrepreneur. She is by nature a creative herself. But, wow, what a wonderful article. Thank you to Simply Saratoga Magazine for choosing Razimus Jewelry for the Artist Spotlight for the very popular summer issue - the time when Saratoga Springs, NY transforms...