---
News — fabric jewelry
Posted by Accounting for Jewelers Collaborator on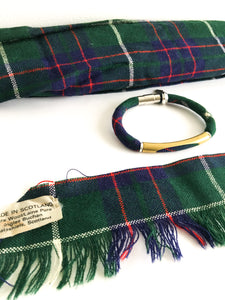 Guest Blogger: Jenn VanDerwerken   I consider myself to be a sentimental minimalist. This can get tricky, as you can imagine. I am comprised of both an urge to treasure and collect the meaningful things that have significance to my life, and a deep desire to keep things organized, streamlined and efficient. I don't want my home or my person to be littered with haphazard decorations, and I can't stand the thought of beautiful objects going unappreciated--collecting dust in some neglected drawer or attic, never actually being enjoyed. And that's just one of the reasons I love the work that...
---
Posted by Virginia Fretto on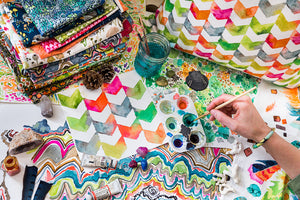 You have likely noticed over the past few years that we have used a number of fabrics from textile design, Betsy Olmsted. Drawn to her designs for their vivid colors and whimsical aesthetic, we couldn't be happier to not only recycle her remnant fabrics, but to call her a friend.    Betsy starts each new design as an original watercolor painting. Her designs are available as licensed fabric yardage as well as her gorgeous lines of houseware textiles.  We are obsessed with her new mineral and geode prints, and you can now find this vibrant print in our ETTA BRACELET.  
---
Posted by Virginia Fretto on